Narcos: Mexico Boss On Series Finale
'Narcos: Mexico' Boss Explains Cyclical Series Finale: The Ending Could Never Be "Neat and Tidy"
The final season of Narcos: Mexico delivered on a promise made at the very beginning: This story doesn't have a happy ending. In fact, it doesn't have an ending at all.
After three seasons of Narcos tracking the origin of cocaine trafficking with Pablo Escobar in Colombia.
This followed by two seasons exploring the rise and fall of Felix Gallardo in Narcos: Mexico
The final season in the decades-spanning franchise concluded its story by focusing on the Mexican cartels that shape the global drug trade today.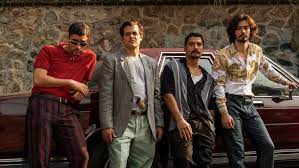 Narcos: Mexico Boss On Series Finale
The third season of Narcos: Mexico, which is now streaming all 10 episodes on Netflix, zeroes in on the emerging bosses of the Juárez, Tijuana and Sinaloa cartels in a bid to capture the changing of the guard that would usher in the chaotic and violent modern world of drug trafficking.
The bulk of the season explores the notorious narcos in 1990s Mexico during a time of increasing globalization and deregulation.
"This is a period where violence on a much more operatic level becomes the norm, unfortunately," co-creator and showrunner Carlo Bernard told.
Up until this point in history, the corruption that fueled the drug trade had "existed in the shadows where it should be," he says.
But events like the 1993 shootout at the Guadalajara airport, which is captured in the season, changed all of that: "Cartel violence being done on a more public level [feels more] like the world we inhabit today."
---
Follow us or bookmark us for more Celeb Bio box office collection report celebrities trailers and promos
Join us on Facebook
Join us on Twitter
Learn Gothic Letter Writing