Louis C.K. Wins Grammy for Comedy Album in Which He Addresses Sexual Misconduct Revelations
The comedian won best comedy album for 'Sincerely Louis CK,' his first special since 2017 when multiple sexual misconduct allegations were made against him.
Louis C.K.'s 2020 comedy special in which he joked about the sexual misconduct revelations against him has won the award for best comedy album at the 2022 Grammys.
Sincerely Louis CK, the comedian's first special since 2017 — the same year he acknowledged several accusations of sexual misconduct that were made against him — was nominated alongside Lavell Crawford's The Comedy Vaccine, Chelsea Handler's Evolution, Lewis Black's Thanks for Risking Your Life, Nate Bargatze's The Greatest Average American and Kevin Hart's Zero Fucks Given.
In the special, C.K. addresses the allegations, including the experience of going out in public after they came to light. Back in 2017, during the early days of the #MeToo movement, at least five women made allegations against the comedian, including charges that C.K. masturbated in front of them and fellow comedians.
The controversy resulted in him losing multiple T.V. and film deals after studios and networks, including F.X. Networks, Netflix and Universal Pictures, cut ties with him.
In a statement, C.K. admitted to the allegations, which were first published in The New York Times, writing, "These stories are true."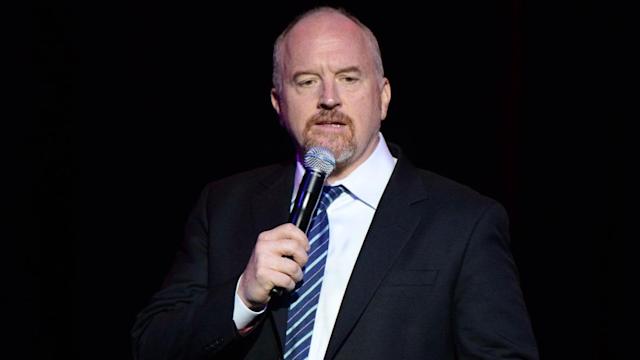 Louis C.K. Wins Grammy for Comedy Album in Which He Addresses Sexual Misconduct Revelations
C.K. made multiple comeback attempts in 2018 with a handful of performances at the Comedy Cellar, though in-person protests and social media backlash met them. In August 2021, C.K. announced a 30-city comedy tour.
Following news of C.K.'s win, comedians, writers, and other industry members responded to social media reports.
Sarah Ann Masse, a writer-producer-director who was among the more than 80 women who accused Harvey Weinstein of sexual harassment, assault or rape, wrote, "Louis CK just won a GRAMMY. "Cancel culture" seems pretty selective, hm? And thanks so much to our industry for telling us that survivors don't matter."
Earlier in the day, she questioned why Will Smith, who is currently under investigation by the Academy for slapping Chris Rock at last Sunday's show, had projects "stalled or cancelled" but "countless sexual abusers still working in Hollywood."
Jen Kirkman, a comedian who alluded to turning down working with comedians associated with sexual misconduct rumours in a 2015 episode of her "I Seem Fun" podcast, called his win a "kick in the c*nt."
"After spending the weekend in an anxious mental health place getting harassed in the hundreds by male Louis C.K. fans on my social media – this is a kick in the c*nt. Everyone hates women," she tweeted.
---
---
The work we're doing is going to be a very complex: US Senators
TRCH Stock Trend Torchlight Energy Resources
SPRT Stock Trend Support.Com Inc (SPRT) Graph
---
Follow us or bookmark us for more Celeb Bio box office collection report celebrities trailers and promos
Join us on Facebook
Join us on Twitter