Anne Hathaway Movies TV Shows & Box Office Numbers
Anne Hathaway Movies TV Shows & Box Office Numbers
Anne Jacqueline Hathaway is an American actress born on November 12, 1982, in New York City, U.S.
Her father Gerald is a labor attorney, and her mother Kate is a former actress.
Hathaway's maternal grandfather was WIP (AM)Philadelphia radio personality Joe McCauley.
Her mother is of Irish descent, and her father has Irish, French, English, and German ancestry.
She was named after Shakespeare's wife.
She is the second of three children, following brother Michael and preceding brother Thomas.
She is the recipient of various accolades, including an Academy Award, a Golden Globe Award, and a Primetime Emmy Award, and was among the world's highest-paid actresses in 2015.
Her films have grossed over $6.8 billion worldwide, and she appeared on the Forbes Celebrity 100 list in 2009.
Personal Life
In 2004, Hathaway began a romantic relationship with Italian real estate developer Raffaello Follieri.
Hathaway married actor and businessman Adam Shulman on September 29, 2012, in Big Sur, California, in a traditional Jewish ceremony.
Their first son, Jonathan Rosebanks Shulman, was born on March 24, 2016.
Their second son, Jack Shulman, was born that November 2019.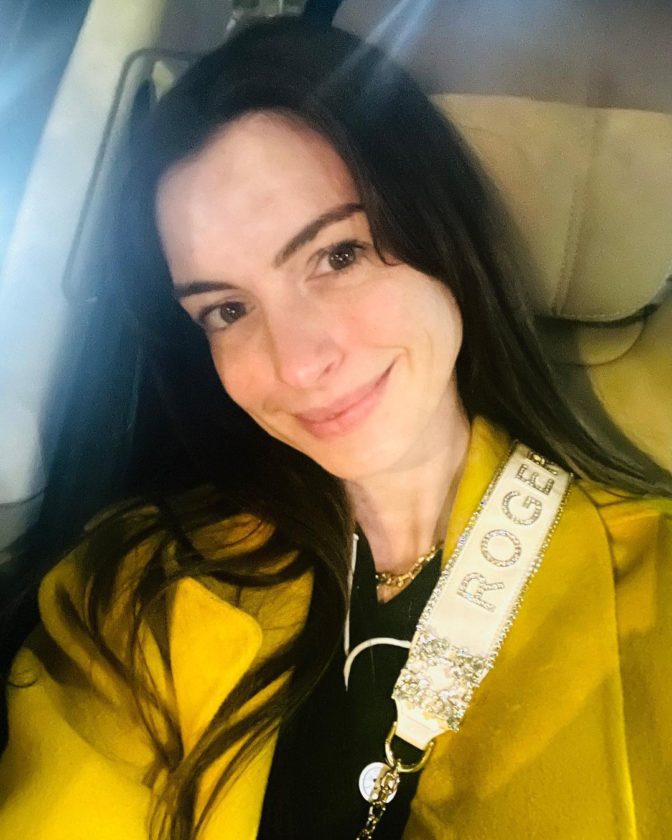 Anne Hathaway Movies TV Shows & Box Office Numbers
Movies
__
Title
Release
Date
Domestic
Box Office
International
Box Office
Worldwide
Box Office
39
Sesame Street
14-Jan-22
38
Locked Down
14-Jan-21
$.35M
$.35M
37
The Witches
22-Oct-20
$26.58M
$26.58M
36
The Last Thing He Wanted
21-Feb-20
35
Dark Waters
22-Nov-19
$11.14M
$11.97M
$23.11M
34
The Hustle
10-May-19
$35.42M
$61.99M
$97.41M
33
Serenity
25-Jan-19
$8.55M
$4.46M
$13.01M
32
Ocean's 8
8-Jun-18
$140.22M
$157.5M
$297.72M
31
Colossal
7-Apr-17
$3.19M
$1.27M
$4.47M
30
Alice Through the Look…
27-May-16
$77.04M
$199.89M
$276.93M
29
The Intern
25-Sep-15
$75,764,672
$121,351,038
$197,115,710
28
Neko no ongaeshi
16-Jun-15
$.M
$.M
27
Song One
23-Jan-15
$.03M
$.4M
$.44M
26
Interstellar
5-Nov-14
$188.02M
$463.98M
$651.99M
25
Don Peyote
16-May-14
24
Rio 2
11-Apr-14
$131.54M
$361.31M
$492.85M
23
Don Jon
27-Sep-13
$24.48M
$16.79M
$41.27M
22
Girl Rising
7-Mar-13
$.85M
$.85M
21
Les Misérables
25-Dec-12
$148.81M
$289.61M
$438.42M
20
The Dark Knight Rises
20-Jul-12
$448.14M
$634.09M
$1082.23M
19
One Day
19-Aug-11
$13.84M
$45.32M
$59.17M
18
Rio
15-Apr-11
$143.62M
$343.9M
$487.52M
17
Love and Other Drugs
24-Nov-10
$32.37M
$70.35M
$102.72M
16
Alice in Wonderland
5-Mar-10
$334.19M
$691.3M
$1025.49M
15
Valentine's Day
12-Feb-10
$110.49M
$107.08M
$217.57M
14
Bride Wars
9-Jan-09
$58.72M
$56.43M
$115.15M
13
Passengers
24-Oct-08
$.29M
$.29M
12
Rachel Getting Married
3-Oct-08
$12.8M
$4.68M
$17.48M
11
Get Smart
20-Jun-08
$130.32M
$96.42M
$226.74M
10
Becoming Jane
3-Aug-07
$18.66M
$20.72M
$39.38M
9
The Devil Wears Prada
30-Jun-06
$124.74M
$201.33M
$326.07M
8
Hoodwinked
13-Jan-06
$51.39M
$58.46M
$109.84M
7
Brokeback Mountain
9-Dec-05
$83.04M
$93.94M
$176.98M
6
Havoc
29-Nov-05
5
The Princess Diaries 2…
11-Aug-04
$95.15M
$26.92M
$122.07M
4
Ella Enchanted
9-Apr-04
$22.91M
$1.29M
$24.2M
3
Nicholas Nickleby
27-Dec-02
$1.56M
$1.75M
$3.31M
2
The Other Side of Heaven
14-Dec-01
$4.72M
$4.72M
1
The Princess Diaries
3-Aug-01
$108.24M
$57.09M
$165.33M
TV Shows
| | | | |
| --- | --- | --- | --- |
| Year | Title | Role | Notes |
| 2021 | RuPaul's Drag Race | Herself | Episode: "Social Media: The Unverified Rusical" |
| 2021 | Solos | Leah | Episode: "LEAH" |
| 2020 | Sesame Street: Elmo's Playdate | Herself | Television special |
| 2019 | Modern Love | Lexi | 2 episodes |
| 2016 | Documentary Now! | Herself | Episode: "Mr. Runner Up: My Life as an Oscar Bridesmaid, Part 2" |
| 2015 | HitRecord on TV | Vivica Virus | Episode: "Re: The Number Two" |
| 2015 | Lip Sync Battle | Herself | Episode: "Anne Hathaway vs. Emily Blunt" |
| 2012 | Saturday Night Live | Host | Episode: "Anne Hathaway/Rihanna" |
| 2012 | The Simpsons | Jenny (voice) | Episode: "Moonshine River" |
| 2011 | 83rd Academy Awards | Host | Television special; co-host with James Franco |
| 2011 | Family Guy | Hot Blonde (voice) | Episode: "It's a Trap!" |
| 2010 | The Simpsons | Princess Penelope (voice) | Episode: "Once Upon a Time in Springfield" |
| 2010 | Saturday Night Live | Host | Episode: "Anne Hathaway/Florence + the Machine" |
| 2010 | Family Guy | Mother Maggie (voice) | Episode: "Go, Stewie, Go!" |
| 2010 | Family Guy | Herself (voice) | Episode: "April in Quahog" |
| 2009 | The Simpsons | Jenny (voice) | Episode: "The Good, the Sad and the Drugly" |
| 2008 | Saturday Night Live | Host | Episode: "Anne Hathaway/The Killers" |
| 2007 | Elmo's Christmas Countdown | Herself | Television special |
| 1999–2000 | Get Real | Meghan Green | 22 episodes |
---
Follow us or bookmark us for more Celeb Bio box office collection report celebrities trailers and promos
Join us on Facebook
Join us on Twitter